This year celebrates Jakuchu's tricentennial anniversary and this special exhibition at Tokyo Metropolitan Art Museum introduced masterpieces spanning his early to late career.
I was so eager to see this exhibition, however, I gave up to line up for 240 minutes to enter.
Yes, actually, I missed the exhibition.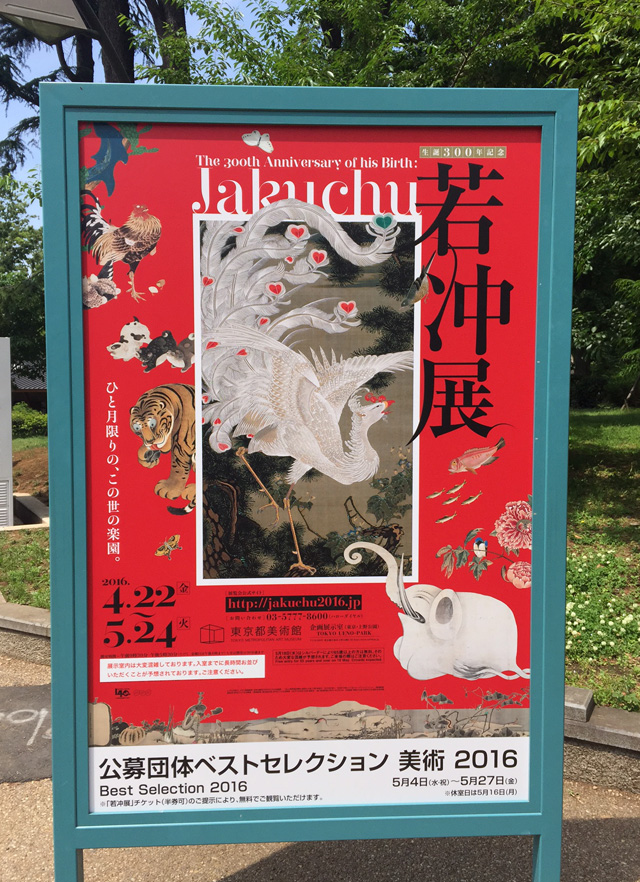 It may be hard to believe, though, people patiently made a long queue for 240 minutes or even longer.
Jakuchu was such a phenomenon throughout Japan this spring.
Because of repeatedly on-aired special TV programs about Jakuchu,this exhibition rapidly gained popularity.
Here is another version of brochure.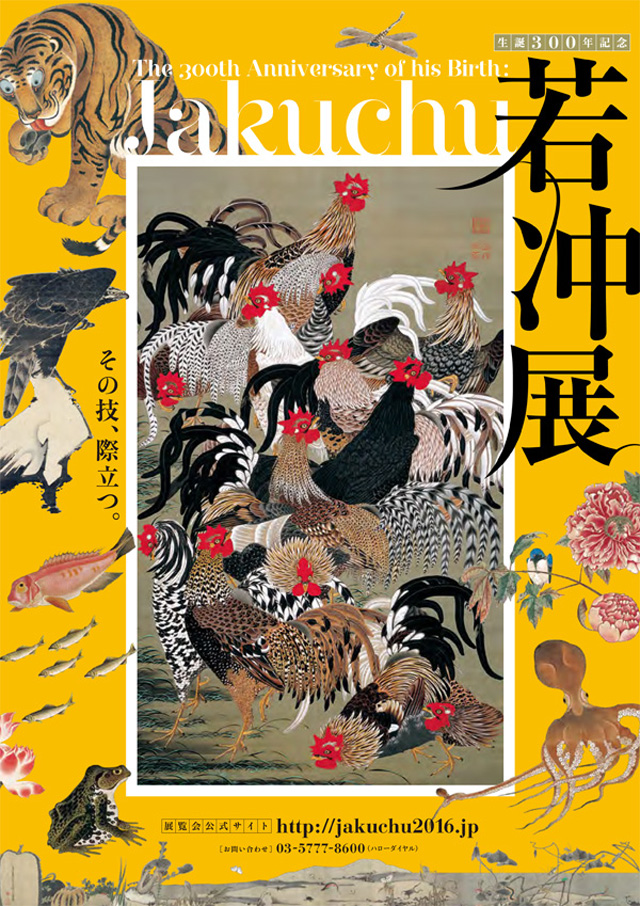 The artist, Ito Jakuchu (1716-1800), was active in Kyoto during the 18th century and energetically produced artworks until his death at the age of 85.
He painted many beautiful and vivid images of animals and plants, using a delicate painting style as well as ink paintings with spontaneous brushstrokes and humorous expressions.
One of the highlights of this exhibition was Jakuchu's masterpiece of 33 scroll paintings; Sakyamuni Triad, consisting of 3 scrolls, (Shokoku-ji, Kyoto) and Pictures of the Colorful Realm of Living Beings,
consisting of 30 scrolls, (Sannomaru Shozokan, The Museum of the Imperial Collections) will be displayed together for the first time in Tokyo.
Jakuchu's detailed technique is revealed in his color paintings, ink paintings and woodblock prints.
With my hope to have another chance to see his artworks displaying his extraordinary technique,
I will  introduce some of his works ( all these images are from this exhibition's official website).
<Peonies and Lilies>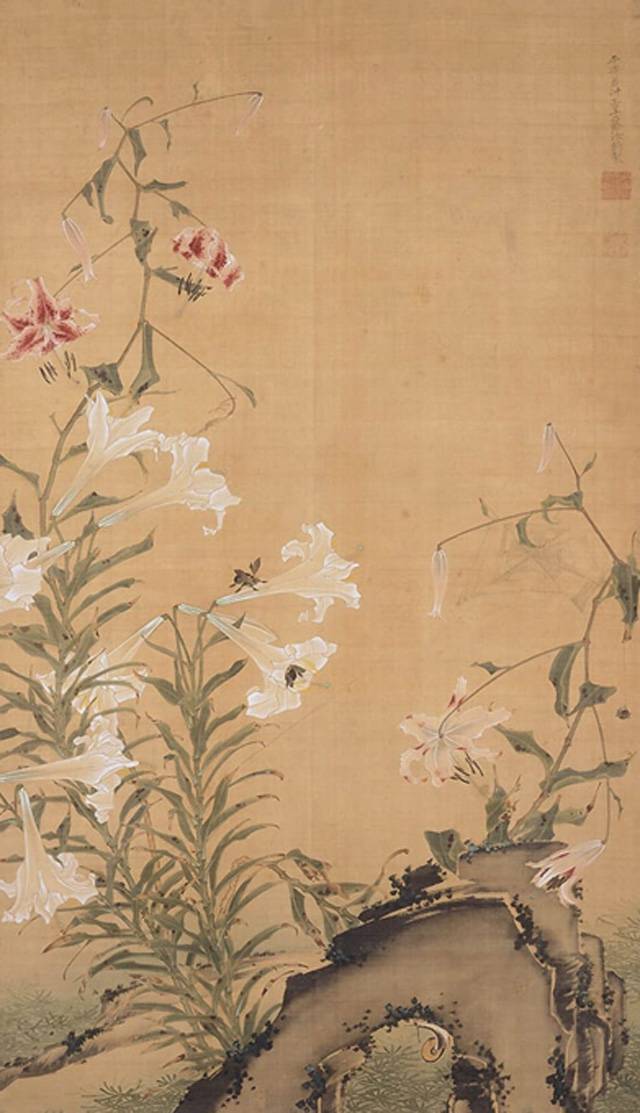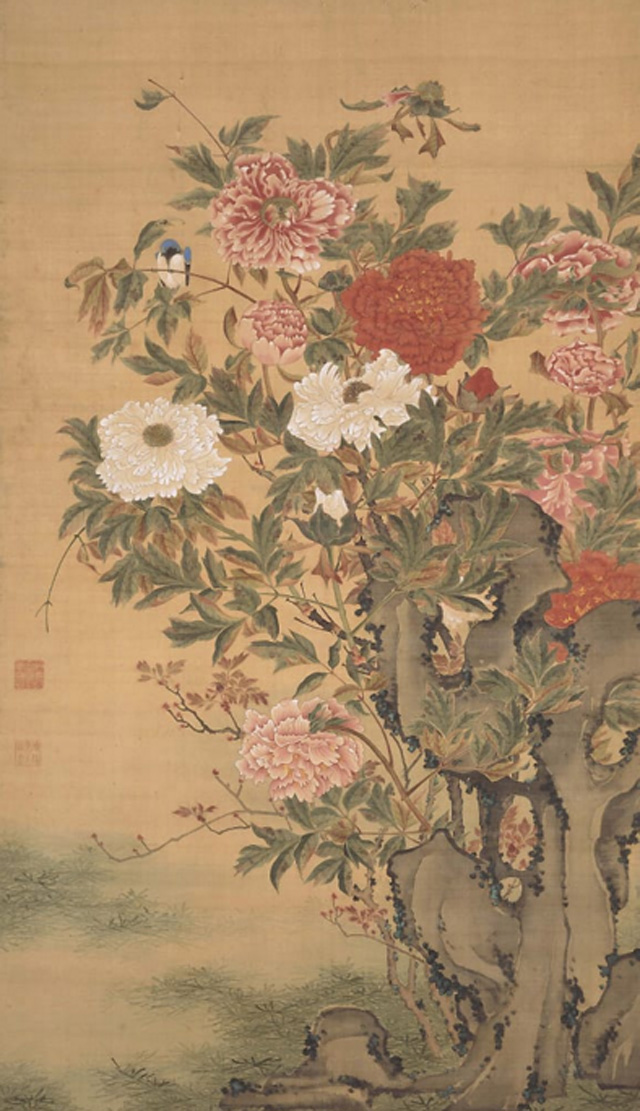 <Kidney Beans and Corn Stalks>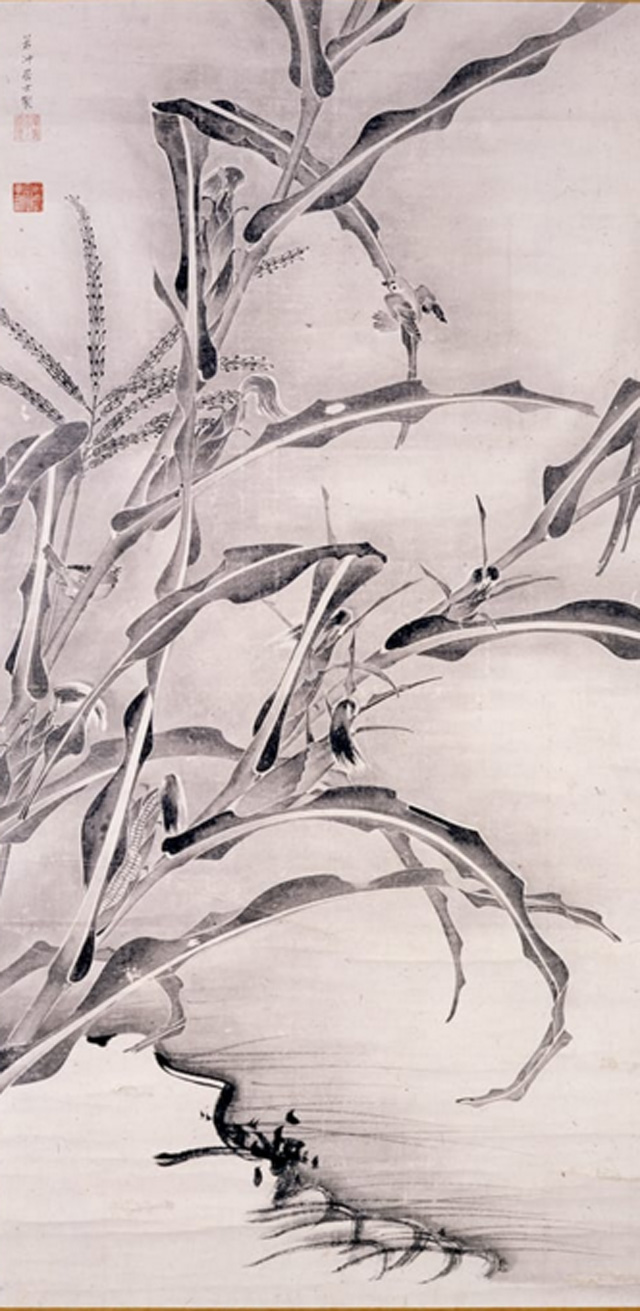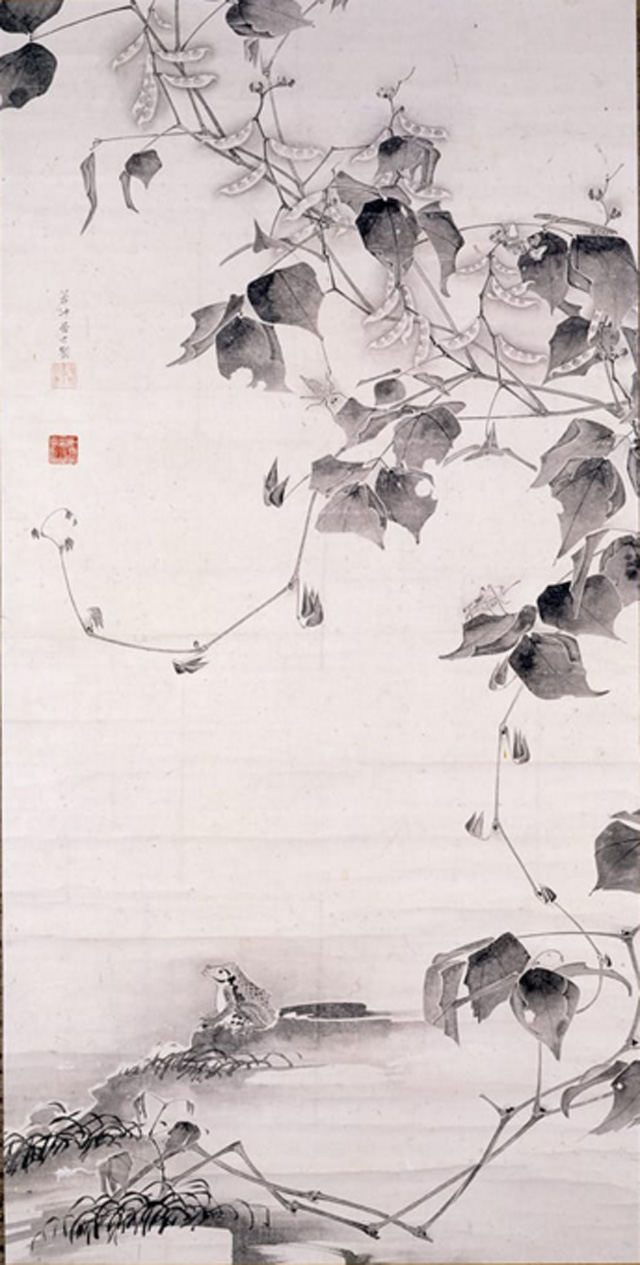 <Peacock and Phoenix> (Peacock part)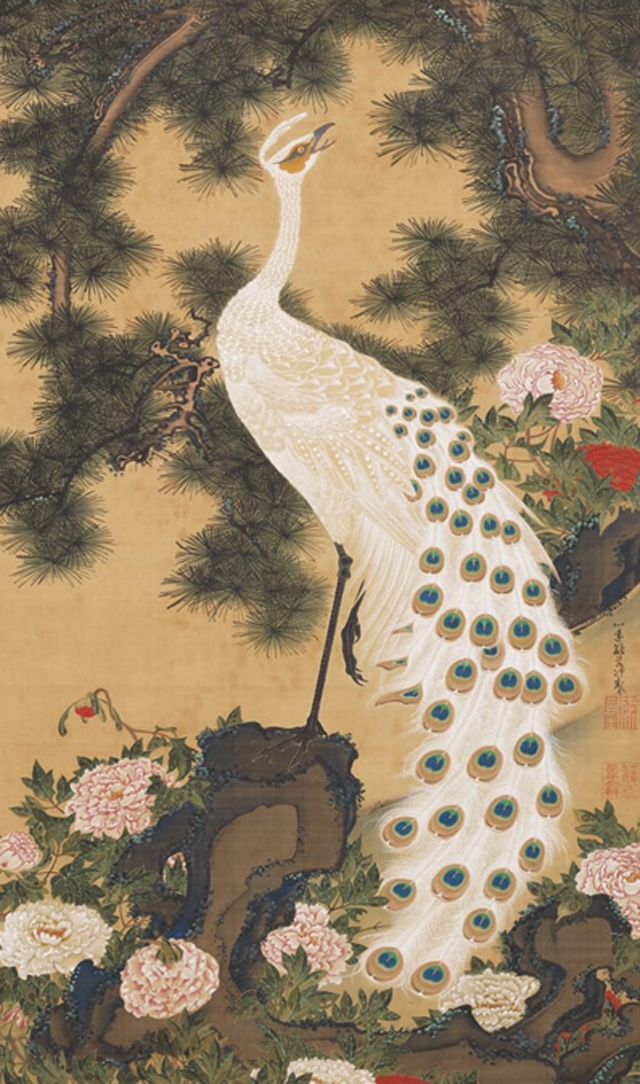 <Flowers and Birds, Parakeet and Roses>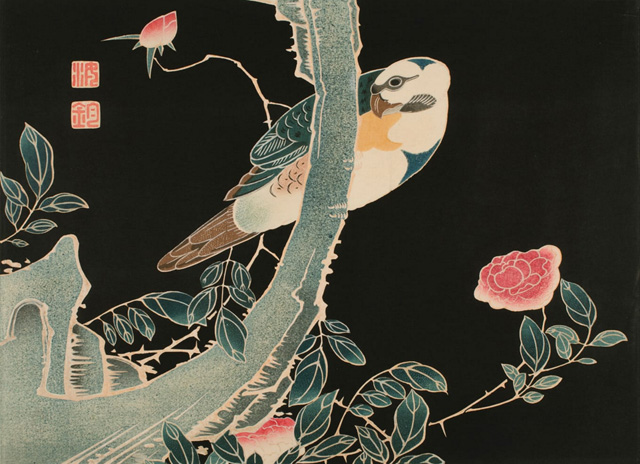 <Flowers and Birds,Cockatoo>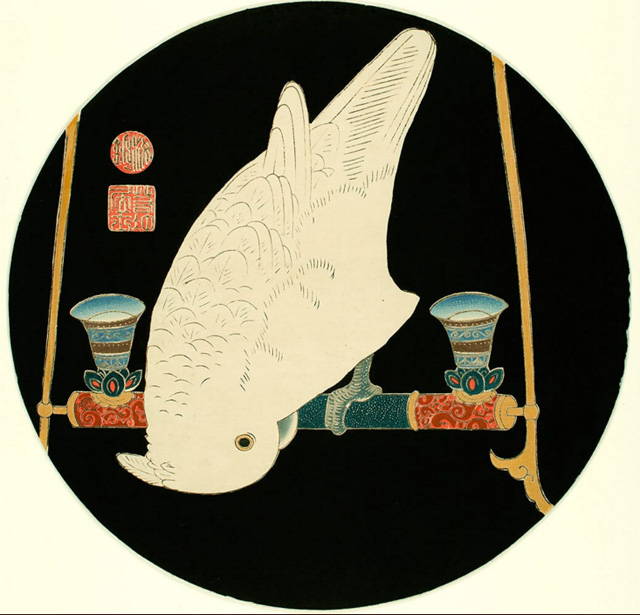 <Shakamuni Triad, Samantabhadra>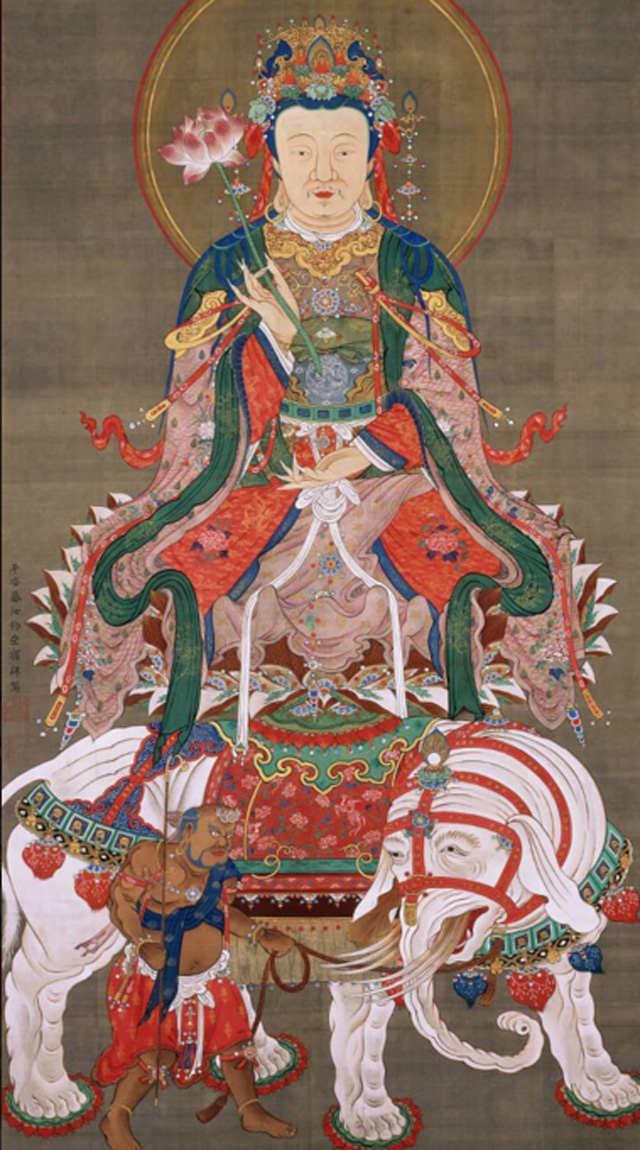 <Shakamuni Triad, Shakamuni>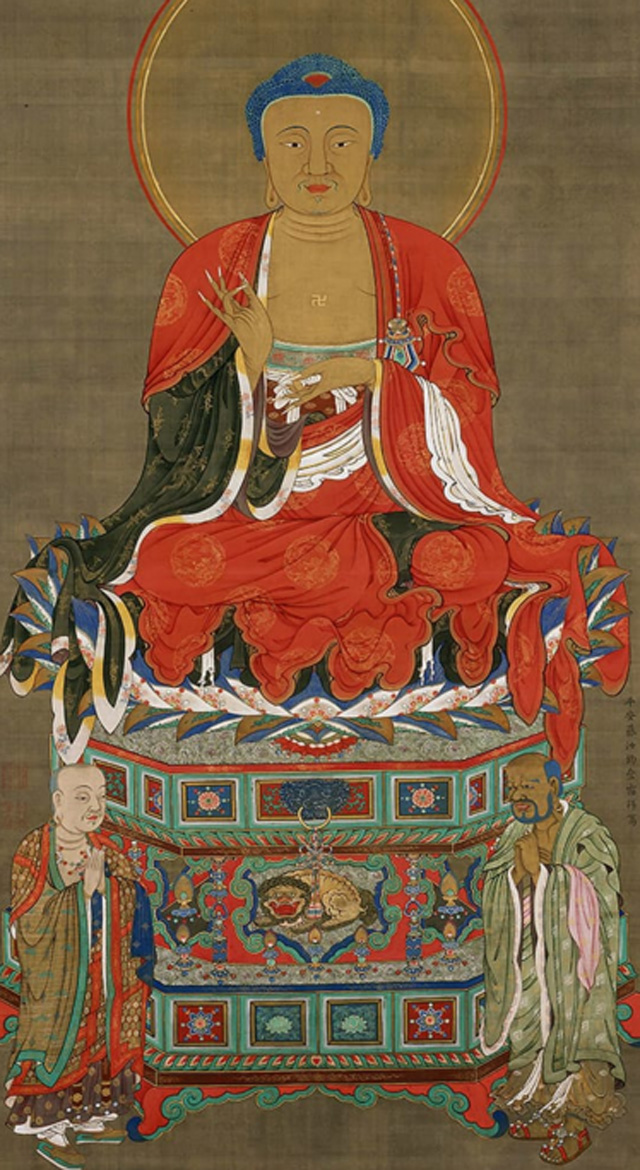 <Shakamuni Triad, Manjusri>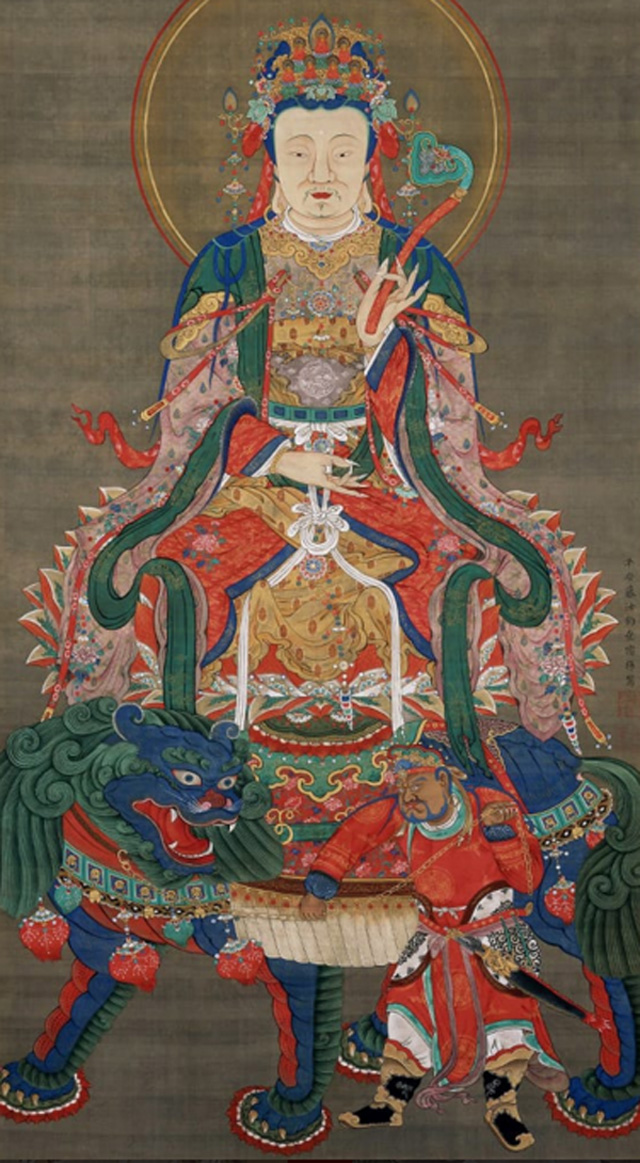 <Colorful Realm of Living Being, Peonies and Birds>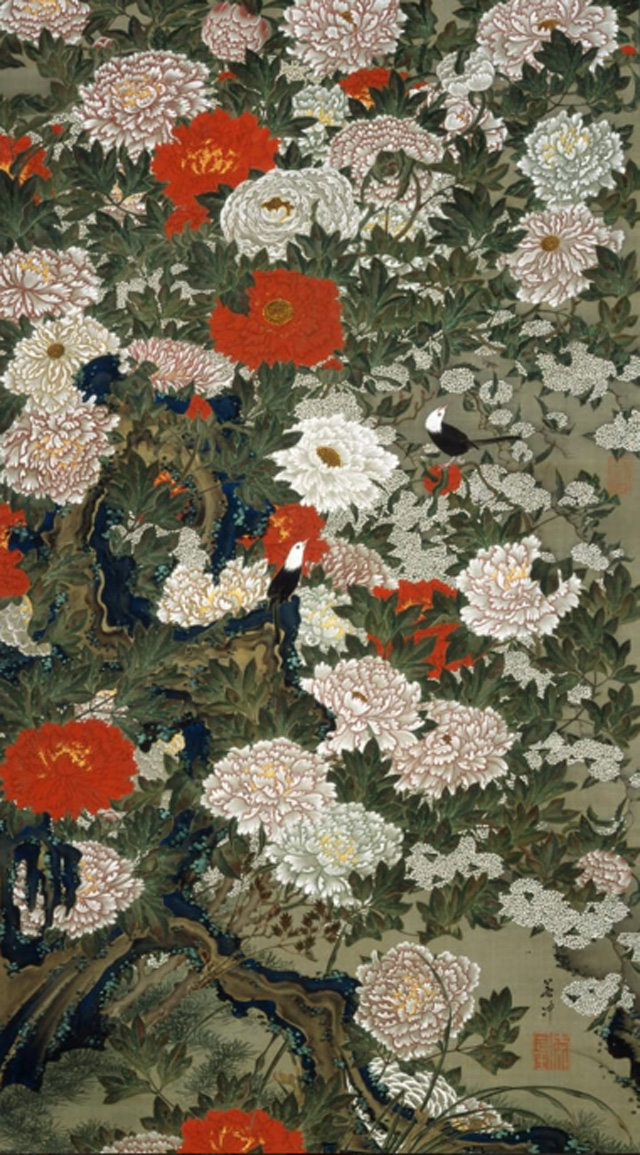 <Colorful Realm of Living Being, White Rooster,Hen, and Old Pine Tree>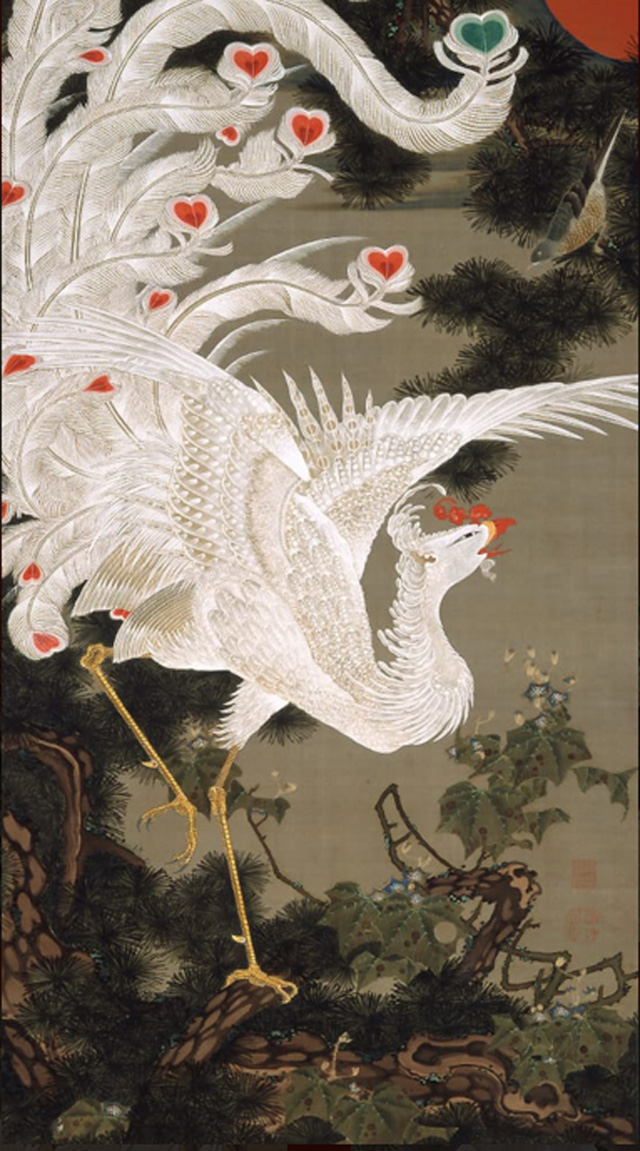 <Colorful Realm of Living Being, Cranes and Plum Blossoms>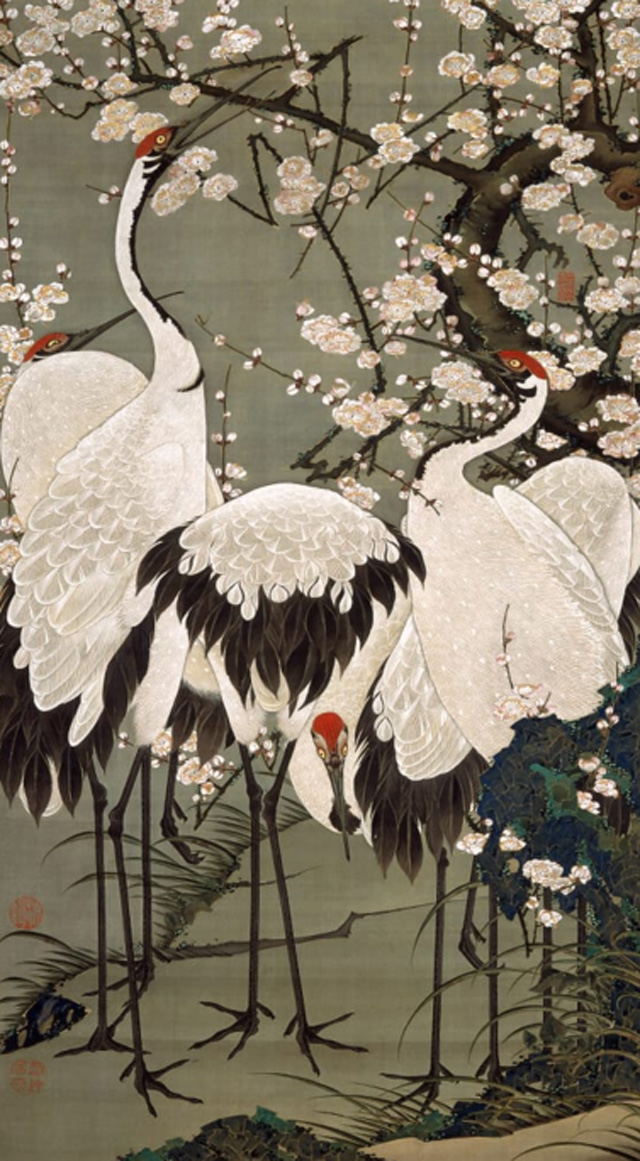 <Colorful Realm of Living Being, Black Rooster and Nandina>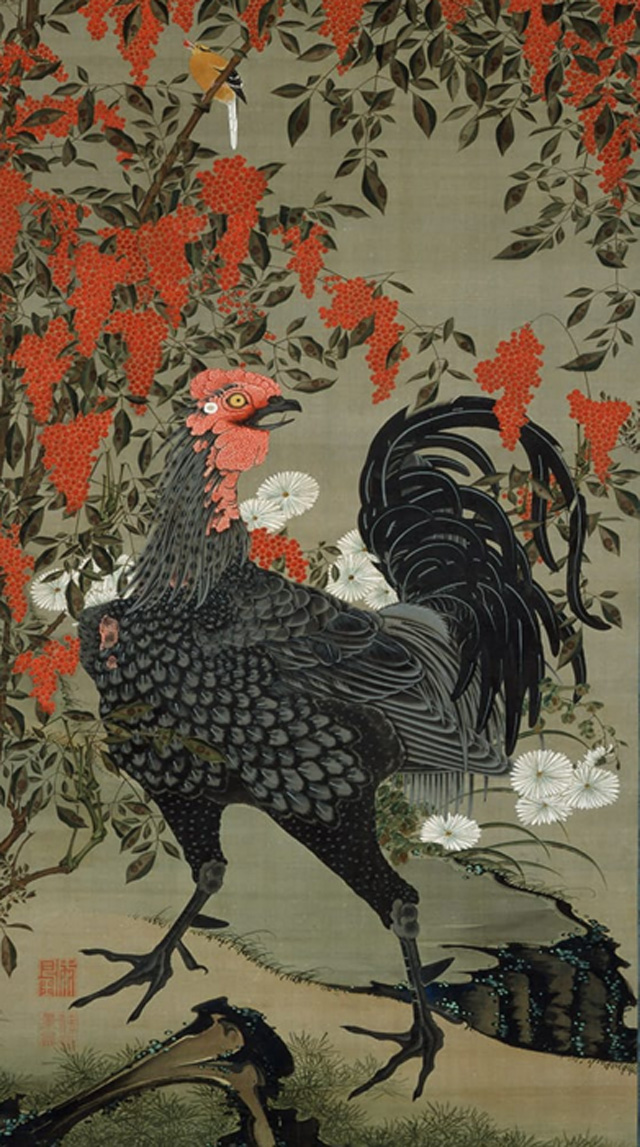 <Colorful Realm of Living Being, Rooster,Hen,and Hydrangeas>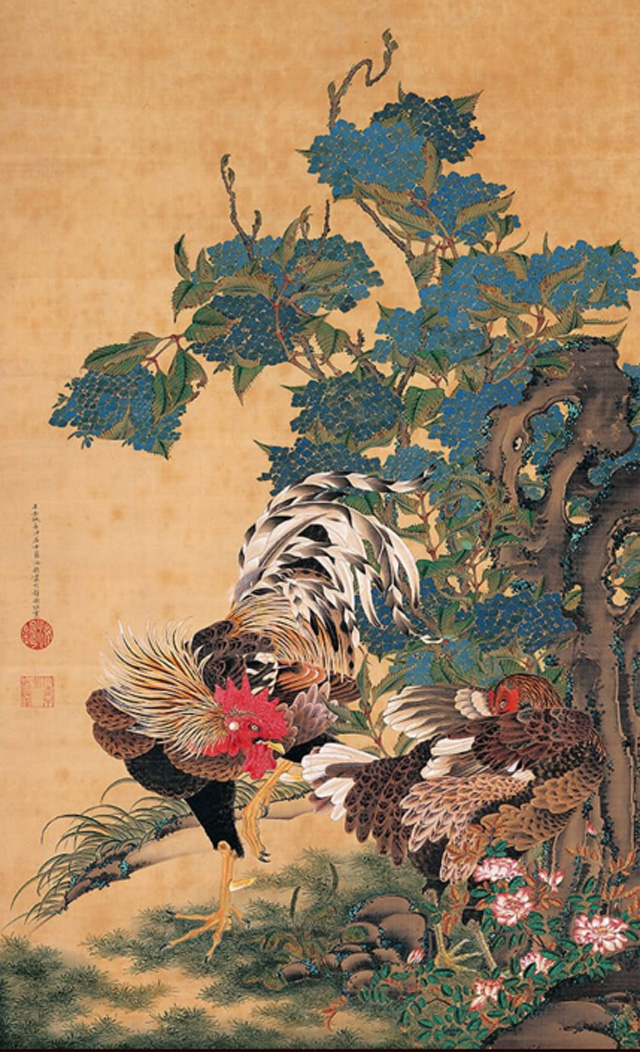 <Colorful Realm of Living Being, Fowls>
<Colorful Realm of Living Being, Peonies and Butterflies>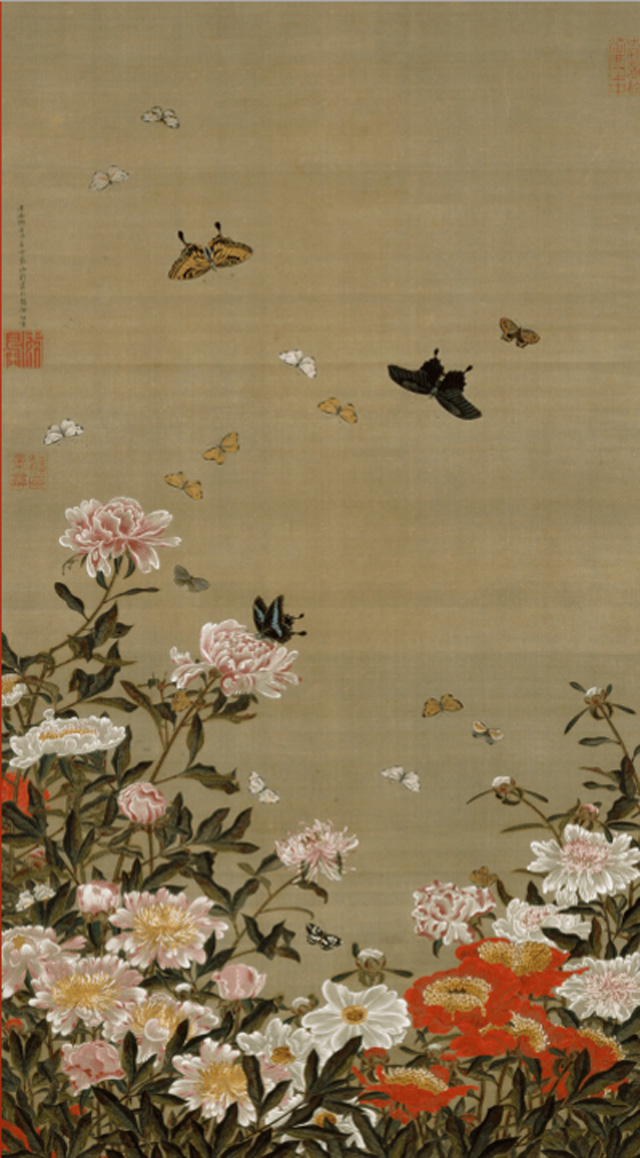 <Colorful Realm of Living Being, Mandarin Ducks in Snow>
<Colorful Realm of Living Being, Golden Pheasants on a Tree in Snow>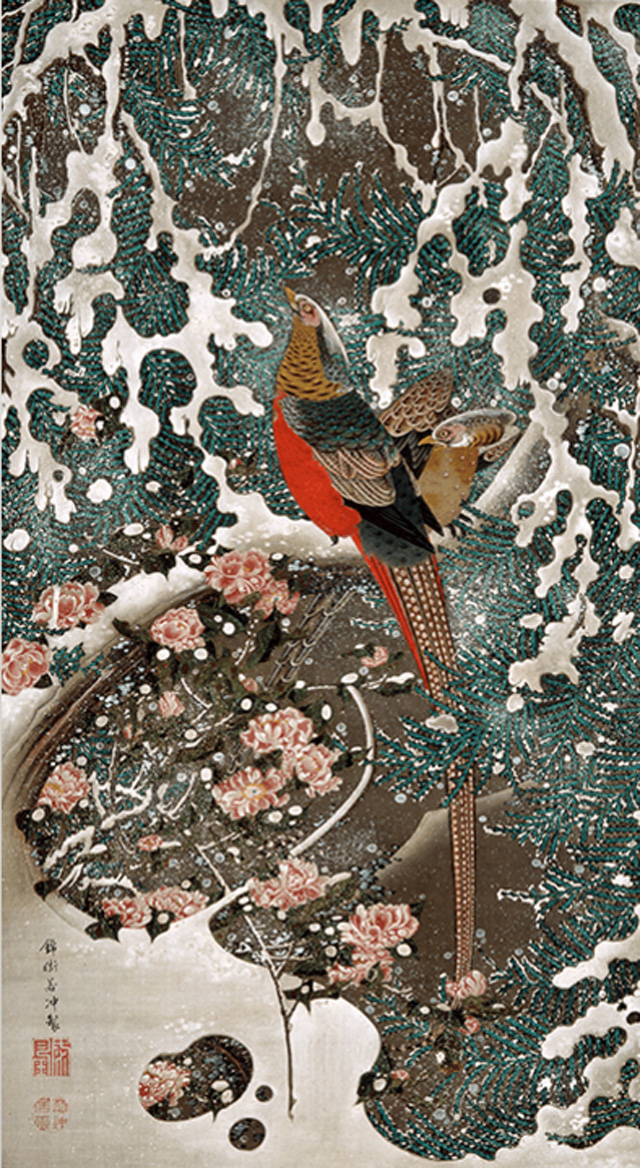 <Dogs>
<Scene of Buddha's Nirvana by Vegetables>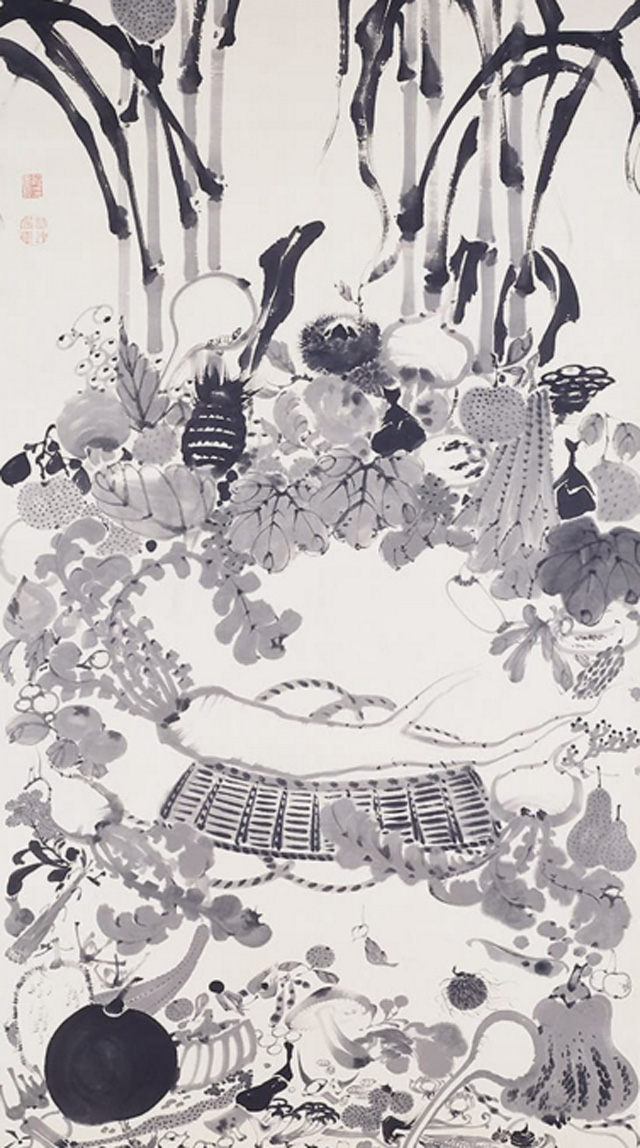 <Cactus and Domestic Fowls>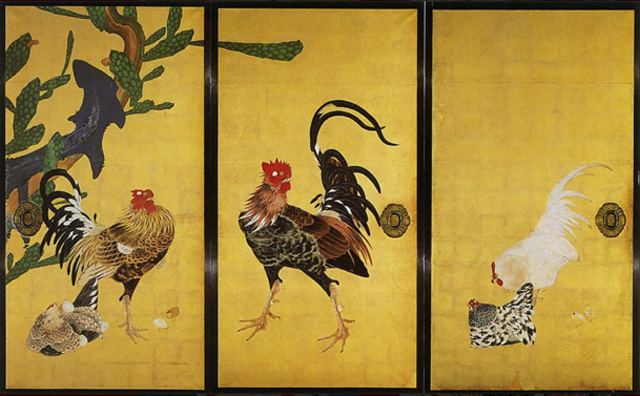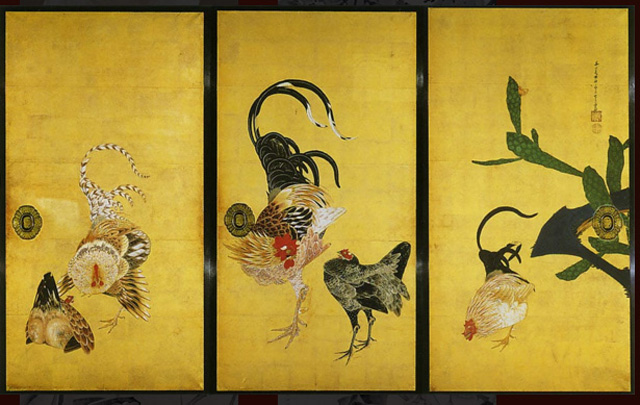 <Elephant and Whale>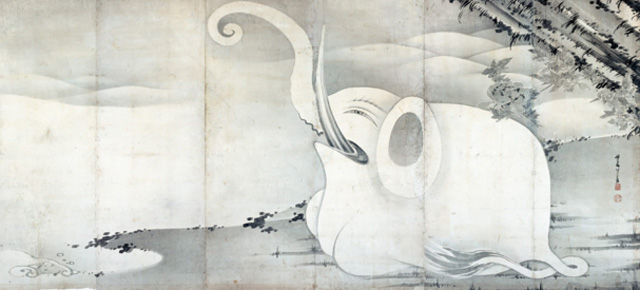 <Rooster Crowing at the Sun>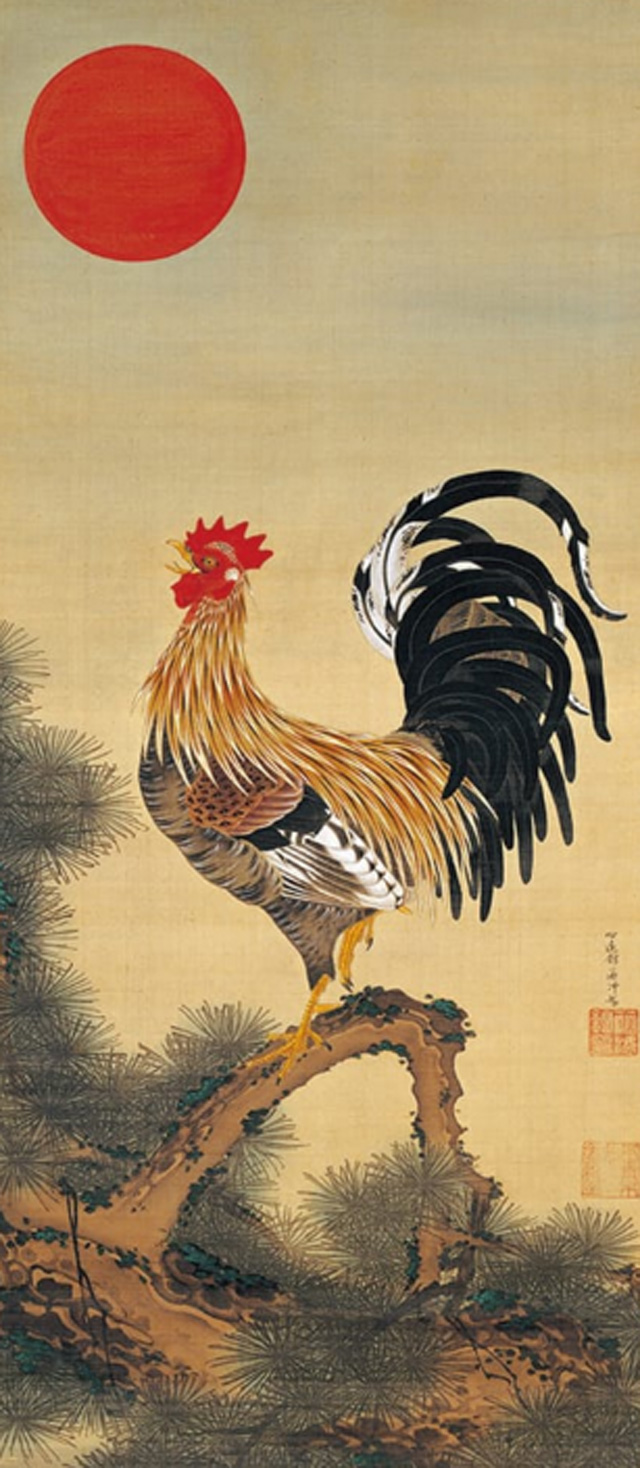 <Tiger>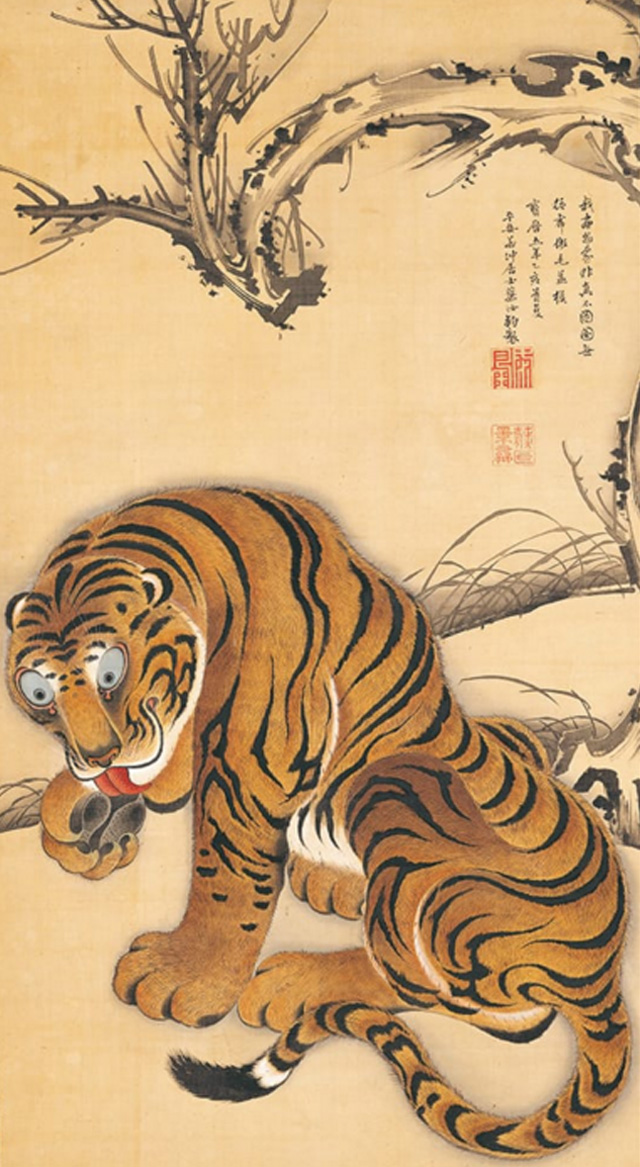 <Birds,Animals,and Flowing Plants in Imaginary Scene>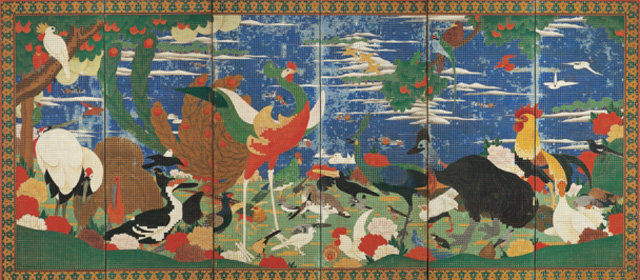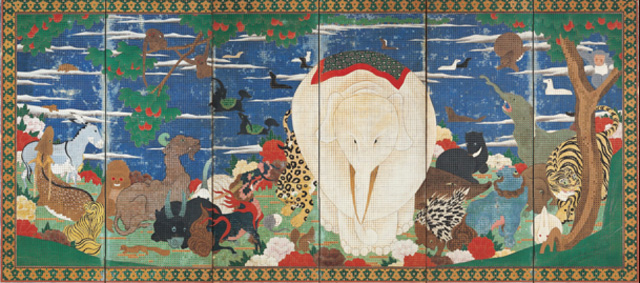 <Eagle>

For more information: Jakuchu The 300th Anniversary of his Birth